Vogue Italia - Una Introduzione - Johnny Wright
Vogue Italia - Seconda Lezione on Extensions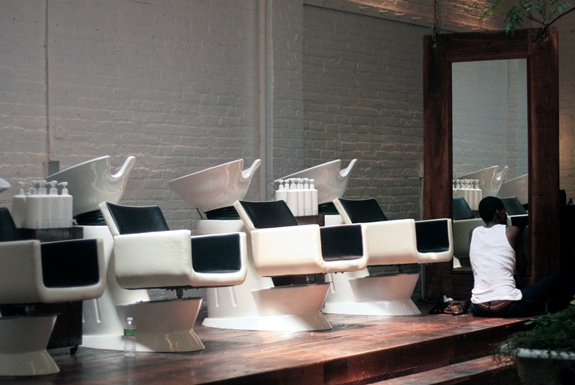 Vogue Italia - Beach Waves
(Interview written and conducted by Oluwaseun Babalola. Published, AfricaIsDoneSuffering.com, Feb. 2012)
I'm proud to be an African. A huge part of my pride I can attribute to my parents (hailing from Nigerian and Sierra Leone). When I look back, I'm thankful that they forced me to wear African fabrics to school events, constantly blasted music to the likes of Youssou N'Dour or Salif Keita in the living room, and fed me generous heapings of Joloff rice and Grannat stew on a nightly basis.
At the time, I didn't give being African much thought. As I got older and further away from my parents influence, I started to really embrace the music, movies, and culture of which I came from.
Movies are particularly relevant to me nowadays. I'm an aspiring filmmaker now, but back then, The Gods Must Be Crazy and Shaka Zulu were the only "African" movies I remember barely being able to sit through. After being introduced to the film "Mummy's Daughter" (I know, I was really late to the game) a few years ago, Nollywood, and African cinema in general, really garnered my adult interests.
The discussion over Nollywood tends to be endless; who does it benefit? Where are the quality scripts and actors? etc. However, in western film, it often appears that not everyone is allowed to have a voice, and I love that in a world that lacks representation of Africans in the media, Nollywood continues to support African stories, actors, and filmmakers.
This past summer, I was searching for some movies to watch, but living in NYC the only way I knew how to get these African films are by buying DVD bootlegs down Eastern Parkway in Brooklyn. After searching for some downloads online, I came across iROKOtv.
iROKOtv is a web platform that provides Nigerian films on-demand. With over 5,000 Nollywood films, it is one of Africa's first mainstream online streaming websites. Coined "the Netflix of Africa," I thought it'd be a great idea for Rise Africa to speak to the CEO of iROKOtv, Jason Njoku, and discuss more about Nollywood, iROKOtv and when he fell in love with his roots.
RA: Hi Jason, Tell us about yourself.
My name's Jason Njoku, I live in Lagos with my wife and 6 month-old son and I am the CEO of iROKOtv.
RA: Was there ever a time where you weren't proud to be African?
I've always been proud of my African heritage - it's extremely important to me. Living in the UK for the majority of my life, I was fiercely proud of my African heritage, but moving back to Nigeria back in 2010 really made me look closer at my cultural background. In fact - I have made Africa's most popular form of entertainment, Nollywood, my living.
RA: It is said that you started several other companies before iROKOtv. What did you learn along the way that helped iROKOtv become a success?
It's true, I started about 10 businesses after university and before iROKOtv and they all failed. I learned resilience, self-reliance, self-belief and, ultimately, humility. I channeled all of my energies into building iROKOtv and never forgot the previous mistakes and learned, importantly, not to repeat them.

RA: iROKOtv was started due to the difficulty of obtaining Nollywood movies online. Are you a Nollywood fan? What's your favorite Nollywood film?
In the beginning, I wasn't really a Nollywood fan - in fact, it was only something I was aware of in the background, it was something that my mum and sisters watched and I didn't really pay too much attention to it first. When I talked to my mum about how difficult it was to get new movies in London, the early spark for a business model was ignited.
In the very early days of the business, I would spend hours and days locked in my room, watching any movie I could get my hands on, trying to absorb as much as possible. Favourite movie? I have watched so many I couldn't say.
RA: What is special about Nollywood films that attracts such a huge audience?
Nollywood films portray African lives, for Africans, by Africans. The themes reflect the lives, loves, passions of those who watch them and the characters are those that people either recognise, see themselves in, want to aspire to or love to hate.
RA: Nollywood is one of the biggest film industries in the world. Do you feel as if it is relatively unknown to the west? Why do you think that is?
It is still relatively unknown in the West, except amongst Diaspora and Caribbean communities who love it. The main reason that Nollywood hasn't travelled as far as it should have is due to access; it has, until very recently, been difficult to actually get hold of the movies, especially legally produced DVD or VCDs. With the advent of online platforms like iROKOtv, where all you have to do is click a couple of buttons and you're watching, more and more people can explore the huge Nollywood catalogue that the 20 year old industry has produced.
RA: iROKOtv has been dubbed the "Netflix of Africa," do you take this as a compliment? What are the next steps for the company?
It was a term coined by an international news outlet to easily explain what we do for Westerners, even though our business model is a little different to theirs. In Africa, the term isn't as useful because Netflix hasn't launched on the continent yet. However, it is an honour to be muttered in the same breath as the world's leading video-on-demand provider. Our next steps as a company are to focus more on building up an African audience and figuring out ways for them to better access our content. Poor internet is the no 1 hindrance for Africans to stream movies online.
RA: Is piracy still an issue when it comes to the distribution of Nollywood films? How does iROKOtv combat this problem?
Piracy continues to be an issue for Nollywood. At iROKOtv, we have very sophisticated software that will detect if anyone else is streaming movies that are exclusively licensed to us, and it means we can take the requisite steps to take the content down.
RA: You've gotten a lot of positive reception from American media, such as Black Enterprise, Forbes, etc. How does the media attention differ between the US and Africa?
We've had fantastic international media interest and I think that one thing that is common both in the US and Africa is that people just love the idea of what we're doing - they like the fact that it's an African company, bringing previously unobtainable, but awesome local content to a new, global audience. They admire the ingenuity of the company and the fatc that we're trying to build something big - a truly African entertainment company.
Western publications tend to be a little more focussed on the business side of things - how we were able to launch, the type of international investment we've received and so forth, whereas African press will look at business as well as what content we have - what type of movies we have and what local audiences think, etc.
RA: Many Nollywood films are straight-to-video productions. How will iROKOtv adapt if the industry changes to theater releases?
If more movies make it into theatre for release, that will only benefit us as it means that overall quality of production is significantly better, which in turn means that we will be able to bring even more popular movies onto our platform.
RA: Do you have any advice for readers who would like to follow in your footsteps?
Young entrepreneurs need to follow their own paths. I followed mine - sometimes it worked but ultimately, it did. Those interested in a quick-win or who aren't prepared to put every last ounce of energy into their business, I would advise them not to start your own company. it is all encompassing and will challenge you like you couldn't imagine. However, ultimately you will rewards outweigh theses challenges as watching your business grow and the sense of achievement is incredible.
RA: Here we like to say the phrase, Africa Is Done Suffering, what does that phrase mean to you?
For me, it means that it's time for Africans to stand on a parapet and say look at me! My thoughts, my hard work, my spirit - these are relevant and they will help Africa reach its potential.
@iROKOtv @JasonNjoku
(Interview written and conducted by Oluwaseun Babalola. Published, AfricaIsDoneSuffering.com, Jan. 2012)
If you are born outside of Africa, does afro-creativity disappear or is the influence deeper?
David Uzochukwu's definition of an African artist is one who "is connected to and strongly influenced by his roots." Although he was born in Europe (fifteen years ago!), David's work in photography is bound to be transcontinental. He took the time to speak with Rise Africa about his influence, inspirations, and artistic process.

RA: Tell us about yourself.
DU: My name is David Uzochukwu, I'm 15 years old and living in Luxembourg. I was born in Austria, my mother is from there and my father is Nigerian. Photography is my life.
RA: I think many readers would be surprised that you are 15 years old. How did you get started in photography?
DU: I started a few years back, when I was twelve I think. I just got hands on my mother's point-and-shoot and that was it, I was totally captivated.
RA: Many artists draw inspiration from their environment. Is this true for you?
DU: I do! Inspiration comes from pretty much everywhere; I just have to keep my eyes open. Books, movies, conversations… the list is endless.
RA: What or who inspires you the most?
DU: What inspires me most are strong feelings and atmospheres. Who inspires me most are young artists like Laura Zalenga or Alex Stoddard, people with a passion that is obvious in everything they do.
RA: What conversation are you hoping to start with your photography?
DU: At the moment, I'm actually not aiming to start anything with my pictures. I'm just creating for myself and letting my thoughts and my imagination become reality.
RA: What camera do you use?
DU: I use a Canon 5D Mark II since summer. Some of my best work was created with a Canon 500D though. As cheesy as it sounds, equipment doesn't really matter.
RA: So what does matter?
DU: Motivation, and inspiration. Also, a certain sense of aesthetics, and the courage to do what you want to do.
RA: What's your artistic process like?
DU: Usually, my process goes somewhat like this: I see something that sparks my interest, and I start building a story around it. I sketch out the photograph, and take different aspects like light, colors, clothing and pose into consideration, and how a change could affect the atmosphere of the image. If I know how I want to go about an image and got all the essential material, I shoot the picture. That takes between twenty minutes and an hour. After that, I look at everything I've shot on my computer, select the pictures that I like best, or where certain parts really please me, then start putting them together. I change things like colors and contrast, and sometimes I add a little magic. Voilà!
RA: Who are usually the subjects of your photography?
DU: Until now, I've only photographed friends and fellow photographers. It was practical, because I could work with people I know and who know me to build my portfolio.
RA: What is the definition of an "African artist"?
DU: An African artist is probably an artist that is connected to and strongly influenced by his roots.
RA: Would you call yourself an African artist?
DU: I don't know, honestly. I have never lived in Africa, so I'm not as influenced by the African culture as I am by the European one. I do think that my African genes are visible in my love for strong and bright colors though.
RA: Do you feel as if you have to be born on the continent to be referred to as an African artist?
DU: I don't think so. For me, it really isn't about where you're from, but about how you feel about yourself and your work. So, if you're white and strongly influenced by the African culture- so be it.
RA: You're located in Luxembourg. Are you interested in doing any projects on the continent? If so, what kind?
I'm more interested in working with special places all over the world, and connecting them to people. (But I really shouldn't talk about projects that I haven't even started yet. It's a bad habit.)
RA: Where would you like to see yourself, in regards to your work, in 10 years?
I'd like to see myself surrounded by creative people, doing what I love most, and experimenting a lot.
RA: Is there anything else you'd like to share with our readers?
Don't be afraid to fail. If you never try, you'll never grow.
(Interview written and conducted by Oluwaseun Babalola. Published, AfricaIsDoneSuffering.com, Jan. 2012)
Nikyatu Jusu is a writer/director/filmmaker born in the US to Sierra Leonean-immigrant parents.
While completing undergrad at Duke University, she became enamored with the craft of film making, leading her to complete an MFA in film at New York University.
Her short films, African Booty Scratcher, Black Swan Theory and Say Grace Before Drowning have won her numerous awards, including a Director's Guild Honorable Mention and an HBO Short Film Award. Say Grace Before Drowning also earned her a Spike Lee Scholarship, as well as a Princess Grace Foundation Scholarship. HBO has acquired her films.
Currently, she's working on her first feature, Free The Town, to be shot on location in Freetown, Sierra Leone. We caught up with Nikyatu to discuss her first feature film, feminism on the continent, and what it takes to be an Afro-feminist in the film industry.